Lunch & Learn events held in Reno feature local subject matters experts with a mission to educate and engage entrepreneurs. Lunch and drinks are provided with the talk, and time for networking is available before and after the event. Doors open at 12pm, the speaker begins at 12:15pm.
Free parking is available in the UNR Innevation Center parking lot.
Sip & Learn events in Las Vegas feature leading industry experts as guest speakers for an informative discussion over light bites and beer or wine. Any founder or small business owner is welcome to attend or watch via livestream. The doors open at 5pm for networking, the speaker starts at 5:45pm.
Free parking is available at the Historic 5th St. School, at the corner of Clark and S. 4th

February 10th 2023
|

Sip & Learn
"Crypto For Entrepreneurs"
Crypto has become much more than NGU (Number Go Up) Technology. This 13-year market has matured into a blooming Web3 industry. Store-of-Value, Smart Contracts, Defi, NFTs, Metaverse, Social Tokens, and Layer 2 scaling solutions have all blossomed into their own unique industries. As an entrepreneur, your digital success will be dependent on which niche is most vital to your Web3 startup.
In this session, Jake will focus on:
Understanding the different industries
Components of a Web3 team
Moving beyond speculative trading
Building upon your Web2 foundation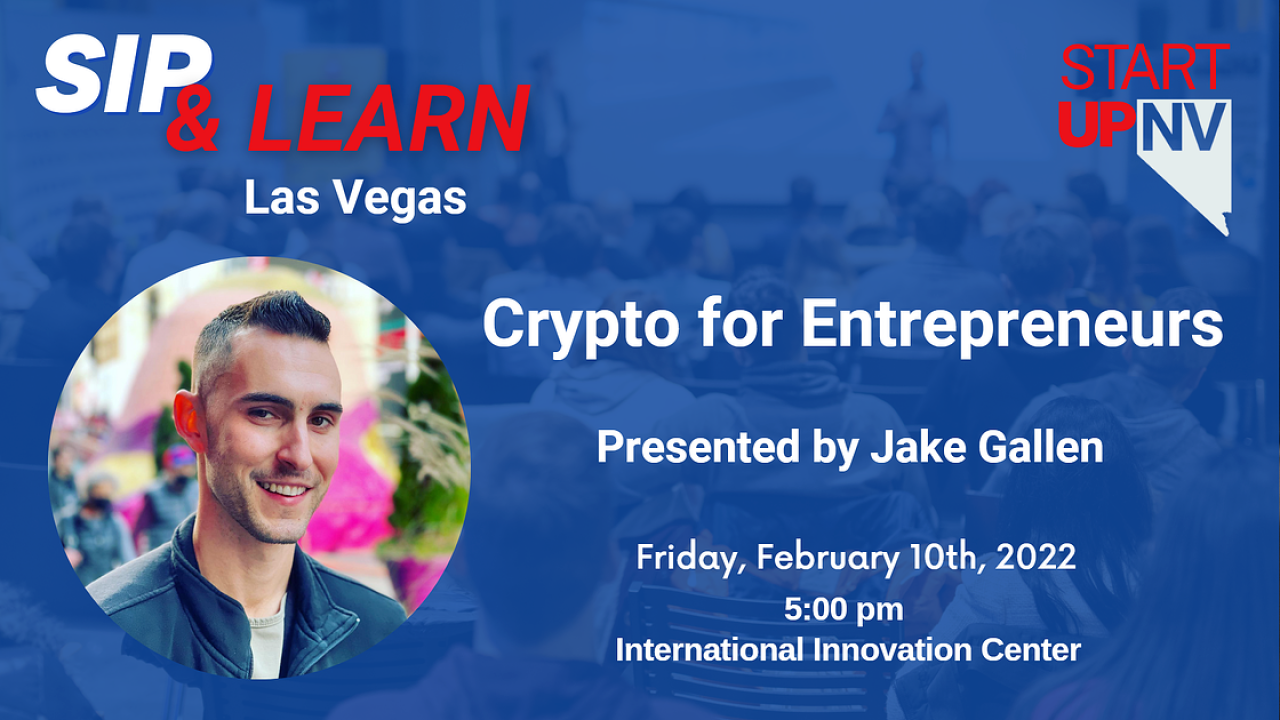 About Jake
Jake Gallen is a 6-year Crypto Native, Content Creator, Entrepreneur, Investor, and #VegasBorn. He is the Host of the Jake Gallen Podcast which has received over 100,000+ downloads in 2+ years. Jake's previous business adventures include a wide variety of endeavors including owning and operating an Antique & Collectable Store and a Web2 Ticketing Application. Today, Jake spends most of his time in the NFT sector interviewing leaders on his podcast, analyzing market dynamics, collecting Historical NFTs, and offering consultation to those who are looking to find a niche within the industry. Jake has been featured in Forbes, Sotheby's, Las Vegas Weekly, and has been a guest on over 50+ podcasts and stages.
Get Tickets ($13): https://www.tickettailor.com/events/startupnv/746734

February 8th 2023
|

Lunch & Learn
"How to Add Zip to Your Zoom Meetings & Live Events"
Whether you're leading a discussion, presenting to the board, or energizing a team, how you speak is crucial. In this interactive workshop, professional speaker Liz Goodgold shares what works and what doesn't when it comes to giving a talk.
Join her as she shares how to:
Start a speech the right way and the 7 deadly sins that always fail
Tell a story and "sell" a story to make a compelling point.

Alert: bring a short story and we will work together on polishing it to perfection
Incorporate an interactive component so you talk with your audience vs. at your audience
Inject your Zoom meetings with zip and personality that build a cohesive team
Inject the 15 new rules of speaking for today's digitally distracted world
Effectively handle Q&A without embarrassing you or your audience
Tickets are $5. Appetizers and drinks will be served.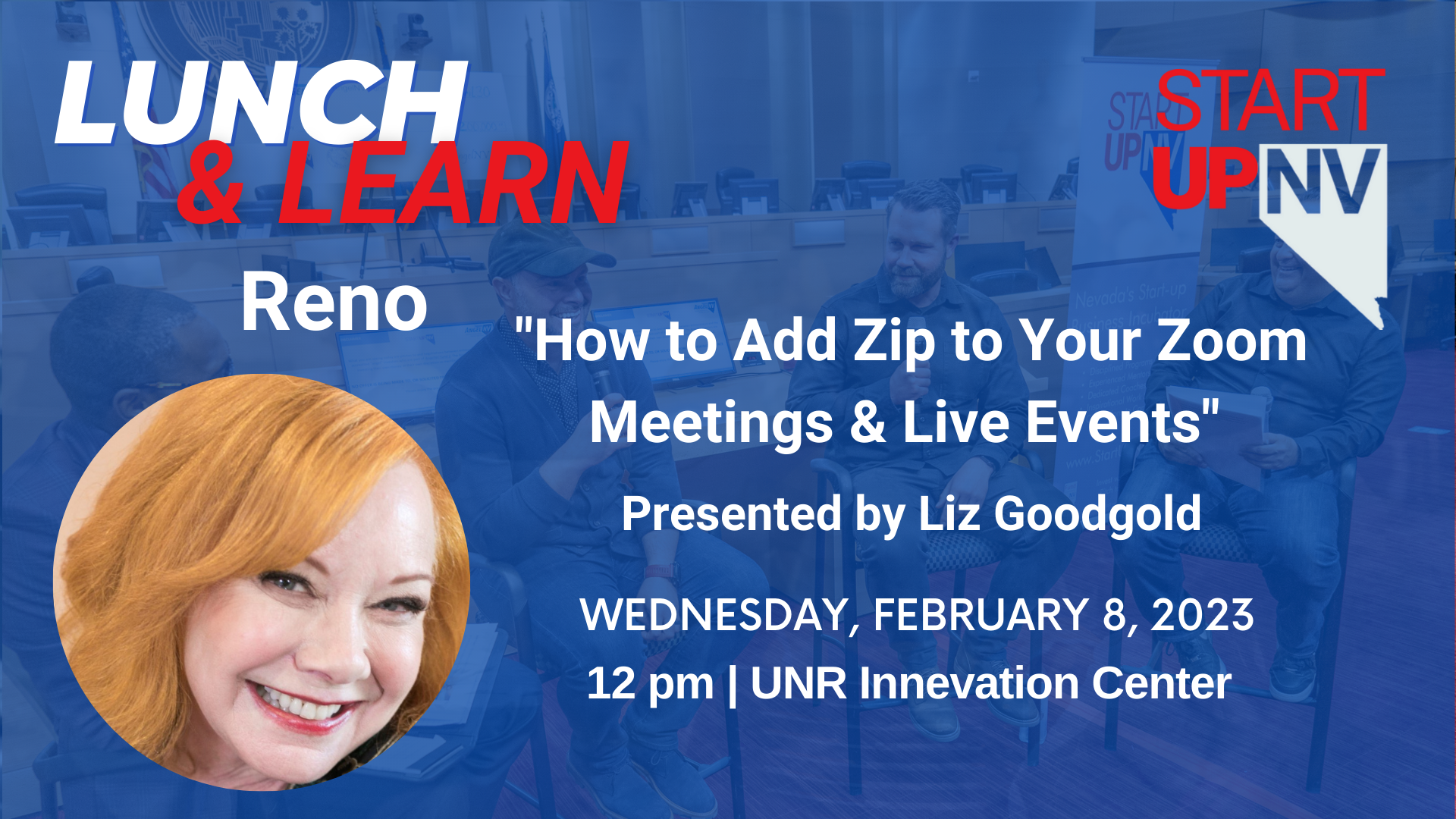 About Liz:
Liz Goodgold is a branding and communications expert who has worked with over 14,000 employees and entrepreneurs to brand better and speak "gooder." A former brand manager at Quaker Oats, she creates winning strategies that earn sizzling results.
Quick with a quip, Liz dishes the dirt on celebrity branding on 2 television shows, was a finalist judge for Simon Cowell, and is a frequent guest on TV.
Liz is in an exclusive relationship with coffee. You can reach her at Liz@RedFireBranding.com
Location: The International Innovation Center - Suite 180, 89101
Get tickets ($5): https://buytickets.at/startupnv/832928